Before Your Visit
Please check out our location at Suite 5, Level 2 in the Blue Shield Specialist Medical Centre.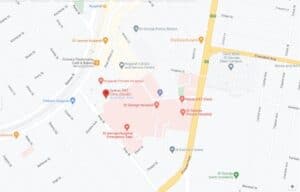 Parking is available nearby and we are within walking distance from Kogarah Train Station.
If you are a new patient, please come 10-15 minutes prior to your appointment as we require some basic new patient information and a simple medication/health questionnaire from you. Both can be downloaded prior and completed beforehand.
On the Day of Your Visit
Please bring the following to your appointment at Sydney ENT Clinic (Kogarah):
A valid referral letter from your doctor
Any relevant imaging such as a CT Scan or MRI
Your medicare or DVA card and private health insurance details
Payment Information
Full payment is required on the day of consultation. All procedures done on the day of consultation will be charged at the full Medicare rebate fee.
We accept EFTPOS, credit card or cash payments. Your Medicare claim will be automatically lodged with Medicare and the rebate will appear in your account typically within 24 hours.